Mua Hills Medical Clinic
The Mua Hills Medical Clinic opened in 2004 and serves as the primary health care facility for residents living in the Mua Hills. The Clinic provides access to health education and other services such as vaccinations through periodic traveling health clinics. The Clinic also provides laboratory diagnostic services and has been designated as an AIDS treatment facility by the Kenyan Ministry of Health.
Mua Hills Medical Clinic
Opened in 2004 → Now Self-Sufficient
Kenya Ministry of Health Officials and Community Leaders Participate in Ceremonies
The clinic dedication held June 2004.
Formal Opening Ceremony with Fundi Peter
This is the contractor who build both the clinic and the library/learning center. His name is Peter Sila.
Clinic Operations
This is Agatha encouraging the young boy to come in for treatment.
The First Patient Young Boy With Infected Burn on Leg. Prior to Opening, the Nearest Medical Care Was Over 15 Miles Away – A Trip Most Made by Foot and Matatu.
Medical Care and Diagnostic Lab
Malaria, Respiratory Diseases, Intestinal Diseases and Parasites, AIDS Approved Testing Lab and Treatment Center
Clinics Operations
Diabetes and High Blood Pressure are Common Problems
School Children Visit the Clinic and Learn About Health
These are school children from the school located next to the clinic.
Deb with women from the Mua Hills community
IDM is a Participating Partner in the U.N. Millennium Development Goals.
Primary Focus is Health, Education, and Economic Stability for Women and Children in Developing Countries
Medical Traveling Clinics
Eyeglasses donated from the Northern NV community were given to those in need. Part of Overall Operations. Fitting Elderly Cataract Patients with Used Eyeglasses.
Medical Traveling Clinics
One Happy Lady after receiving her glasses from us!
Mosquito Net Program – Cost Effective Prevention
Insecticide treated mosquito nets are the most cost effective was to reduce malaria – an endemic health problem in the area. IDM distributed the nets to the rural community downhill from the Mua Hills Clinic. The nets were purchased using a grant from a St. Patrick's Church in Incline Village. The Clinic reported that the incidence of malaria did decrease after the dissemination of the nets.
Medical Traveling Clinics
One of the Mua Hills traveling clinics to teach the local community about health issues, clean water and nutrition. Health Education is Vital to the Far-Flung Rural Community.
Distributing Nets and Water Guard to Families
Deb distributing nets and Water Guard (a treatment to sanitize water).
Clinic Operations
Administered by Nurse Practitioner with Visits and Supervision of Kenyan Ministry of Health.
Clinic Operations
Vaccinations Provided by the Kenyan Ministry of Health and Administered by Clinic Staff. Malaria Prevention and Treatment Information.
Medical Traveling Clinics
Vitamin Distribution Program. Sponsored by Ministry of Health.
Dental Hygiene Project for School Children
Dental Hygienist from Northern Nevada checking teeth and provided education on dental hygiene.
Muthoka with a lab tech in the Clinic Lab
One of the Better Facilities in Kenya. Clean and Well-Equipped. Dedicated Staff. But Not Without Problems!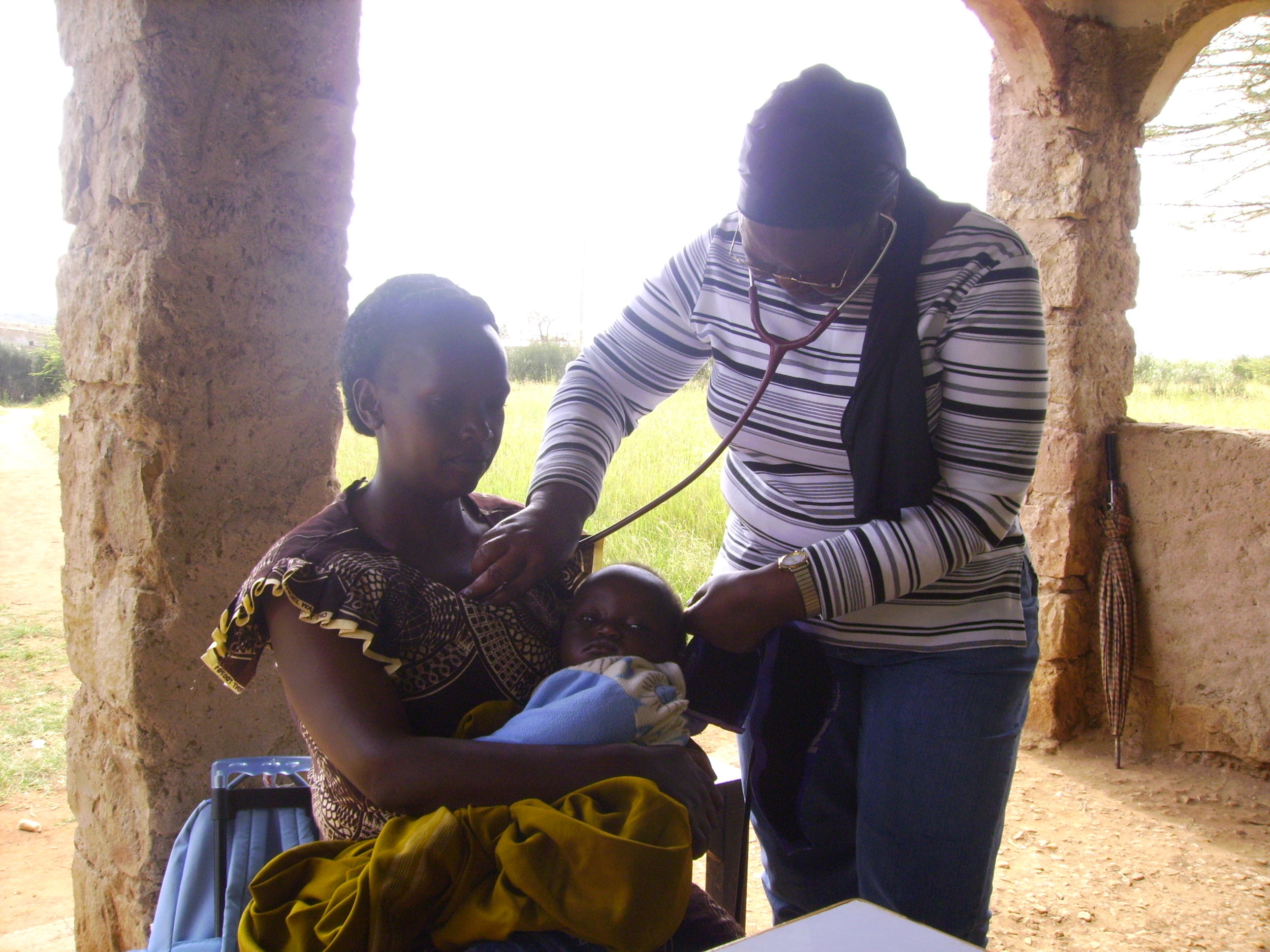 Medical Check
A patient receiving one of the first Medical Checkups we offered.
Mobile Clinic
People receiving health education from clinic nurse.
Mobile Clinic
People waiting for medical care.
Women of the Villiage
Women carrying wood (sticks) for cooking.